(N13) News on Hoardings up to 22 August 2004 - CPC reports
HOARDINGS
22 August
Latest! A good section of the hoardings has come down revealing a wide entrance to the hilltop site divided from Crystal Palace Parade only by bollards. More will be revealed when the growth on the bunds behind the hoardings has consolidated the earth works. This has come about following the meeting in July (see below) and the approval by Bromley Council Executive of the recommendations from a Stakeholders meeting.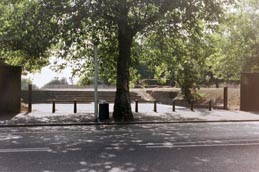 The entrance to the top of the park from The Parade (Sept 2003 RES)
---
HOARDINGS
- 3 August 2003: work has begun on securing the top site, then the hoardings can come down; site visit next week and further report on progress.
- 9 July 2003: the very latest - Meeting, afternoon, in Crystal Palace Park
Colin Brand (Landscaping Officer) and Patrick Brooks (Park Manager) met local residents at the Park and discussed various options for replacing the hoardings with a more acceptable barrier. A barrier is necessary for the security of the hilltop zone and should also allow better access to the park - all without detracting from the vista.
A number of options were discussed, but the most practical, economic and convenient seemed to be a combination of bollards and bunds. This was agreed with all present (including English Heritage) and will be put before the Bromley Council Executive meeting on 28th July. If the Executive agree with the proposals, work could start almost immediately since it may be possible to design the barrier such that it does not require formal planning permission and hence a long planning enquiry.
For the moment, for practical reasons, the whole hilltop site cannot be opened up but the work will allow access to a substantial area from the bustop end almost to the main Parade junction with College Road. The rest of the Hilltop will be considered in due course for similar treatment.
This is really good news for Park users, opening up of much of the Hilltop site, improving general access and creating a new wheelchair ramp at the steps near the bus station. Well done Bromley, more please...
---

Top of page; Return to News index

30/8/04 Last updated 30/8/04