Welcome
to the [old] website of the
Crystal Palace Campaign

In about 3 seconds you will be re-directed to the new website.......

ANNOUNCEMENT
WE HAVE MOVED

TO

LAST MONTH...ends 1 October 2008

At the end of September this site will close down and only the new site will exist. The links have been on this site since June 2007 (see left of this box) so I hope everyone has noted the move...............

Sir Joseph Paxton (1803-1865), gardener & architect, creator of the original Crystal Palace in Hyde Park in 1851.

The Crystal Palace Campaign is a popular movement which has successfully prevented a 20-cinema multiplex from being built on the historic, Grade II* listed site in Crystal Palace Park where the rebuilt (Sydenham) Crystal Palace used to stand.

We are now engaged in a dialogue process, which we initiated, to see the results through to a successful conclusion i.e. an arrangement in place to allow full and proper consultation.

Included is news, history, anecdotes, forthcoming events; including the material from the first phase of the campaign.

In view of the changing circumstances and Campaign successes we have updated the items Who We Are and our Core Principles - the original versions are archived in A18, the links above go to the updated pages. (6/11/2004)


Site last updated - 10 July 2008 (more information below)
For full "frames" view of site i.e. not just single page views, including indexes etc. click... FRAMES.
e-mails: please let us know your email address if you want to receive e-mailed news from us - if you have already received e-post, then you are on the list; if you know someone who doesn't have email, then please let us know... in either case, go to contact form.
For old "Season's Greetings" messages and various other archived material go to Archive Index.

MOVE: after many years at this address, we need to move to expand. So you can find us at:

www.crystalpalacecampaign.org

NOTE WE WILL ONLY BE at .dircon etc UNTIL THE END OF September 2008........

This (old) site won't get much attention from now on but the new site will be kept up to date - after we have got over the teething troubles of the move. Please let us know (by means of submit/contacts forms on this and the new site) if you spot any mis-connects, blank pages and other glitches! We also plan a makeover on the old format which has served us well since the 4th October 1998, when we first went live, till now; June 2007.

STATUS: All the material has been successfully transferred, most of the links fixed, submit and emails mostly are OK. There will be a transfer arrangement on the old site to the new (in a short while) and it will remain in place for a few months so, essentially, there will be no continuity loss.

FUTURE: There is much ongoing activity relating to Crystal Palace Park and we intend to keep you informed more regularly since there is a lot of misinformation floating about! The Master Plan for the Park is due to be submitted to Bromley Council around September/October this year (2007), their assessment will follow and then a statutory planning inquiry. This process could take about 18-24 months.... then the work, the real work will start. Or, should I say continue since you may have noticed the machines at work demolishing some horrible concrete - there are some pictures on the other website.... look at "A NEW START" under the "What's Been Added" section.... here we go!
WHAT'S NEW

Grouped items see Themes page...or
try our SEARCH page for site searching.
Baffled by ACRONYMS? Try our Glossary page.

"There is no city like London. It is a wonderfully diverse and open city providing a home to hundreds of different nationalities from all over the world. I can't think of a better place than London to hold an event that unites the world." - Nelson Mandela...

see....London 2012 Olympic bid website
STAKEHOLDERS' DIALOGUE PROCESS

........... GO TO---------NEW CRYSTAL PALACE CAMPAIGN SITE>>>>>>>>
---
...........GO TO----------NEW CRYSTAL PALACE CAMPAIGN SITE>>>>>>>

---
Site notes
last updated 16 June 2007, 1248: LINKS etc 26 February 2008
Pages updated:- Home;

NOTE: if you don't have the "frames" of this website up and running, you might have entered this website awkwardly
click here>>> go to index.htm to get to the best screen arrangement.
Browsers: these web pages are tested with Internet Explorer and Safari.

-------keep coming back to this site, it's always changing-----
---
Sir Joseph Paxton - the leading photograph above is of a sculpture by W.F.Woodington, 1869: it now stands facing the sports stadium, his back towards the old Palace site! In 1823 Paxton moved to the Horticultural Society in Chiswick and entered the date of his birth as 1801 - an action which mislead many an historian. In fact he was born on 3rd August 1803 in a small village called Milton Bryan a few miles south-east of Milton Keynes in Bedfordshire. He died on the 8th June 1865 at Rockhills in Sydenham, south London, having seen his great building, Crystal Palace, for the last time in May of that year. He was wheeled in a chair through a flower show and, although surrounded by the plants he had always loved, he was unable to complete the journey.
---
you are the ...
...visitor to this site.

Click on the Sphinx to get a high resolution picture. (It makes a very nice background picture for your computer screen.)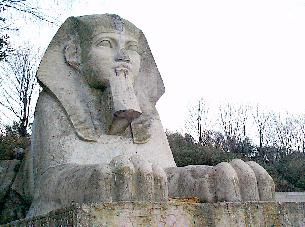 ---
Top of Page