(R114) Planning Permission GRANTED - April 2007
Two important planning decisions by Bromley Council herald a small but significant beginning to the process of regeneration of Crystal Palace Park:
---
CAPEL MANOR
From Bromley Council Website - Planning:
Case Number - 07/00665/FULL1
Date - 20/02/2007
Address - Crystal Palace Park Thicket Road London SE20 8DT
Proposal:
Greenhouse and elevational alterations to main farm building and lower and upper stables/ replacement 2.5m high metal boundary railings and gates and replacement 3m high metal entrance gates
Application Permitted
PEDESTRIAN BRIDGE/turnstiles etc next to Crystal Palace Station
Case number - 06/04549/FULL1
Date - 20/12/2006
Address - Crystal Palace Park Thicket Road London SE20 8DT
Proposal:
Demolition of pedestrian bridge/ steps/ turnstiles and alteration of ground levels/ hard landscaping and replacement fencing/ gates
Application Permitted
---

More on Capel Manor - this is an exciting development; so many people have been anxious to get the animals back in the park, here's our chance!

The Park Working Group 4 February 2007 recorded the following summary of the discussion following a visit to he Head Ofice of Capel Manor in Enfield:
Capel Manor

Those who visited Capel Manor were impressed - highly conscientious organisation and well supported (royal patronage) and very professional - a centre of excellence.

Site is impressive, well maintained, there is close attention to needs of users/clientele.
Felt reassured in terms of the kind of development Capel Manor could bring to Crystal Palace Park.

Capel Manor have a lease to allow teaching in Jubilee Stand - the only extra building would be a security fence and staff would occupy existing residences on the Crystal Palace Park.

There is a need to recognise that Capel manor would not bring a large college with it (which is a concern for those who are objecting to it).
There is a tight timescale for planning application (March 07), which relates to students enrolling for next academic year.
Capel Manor would only get LDA funding at Crystal Palace Park with 300 days per year opening of farm to public and good daytime opening hours.
The planning application content is primarily about the opening of the farm and not about building &endash; which is not intended.

Summary of Capel Manor intentions regarding planning application would be useful to inform wider public and interested parties - useful to distribute at Main Group.
Capel Manor would like to invite ward councilors to visit Capel Manor to explain what is intended.
An 'open day' type of event rather than public meeting would be more helpful to inform public.

Masterplanners intend to visit Capel Manor along with ecological consultant to look at how Capel Manor would be integrated into the park.
Bullsmoor Lane
Enfield
Middlesex EN1 4RQ
tel: 08456 122 122
fax: 01992 717 544
is a well established specialist educational centre for all those interested in
Horticulture
Landscaping
Floristry
Countryside
Arboriculture
Animal Care
Horse Studies
Saddlery
Garden Design
Management of the Environment
The vist to the centre at Enfield and contact with the students and staff made a great impression on the Park Wokiing Group.
Following the exciting news that their planning application to bring to life the old farm buildings has been approved we can look forward once more to animals in the park - here are some pictures from that visit (click on the picture below):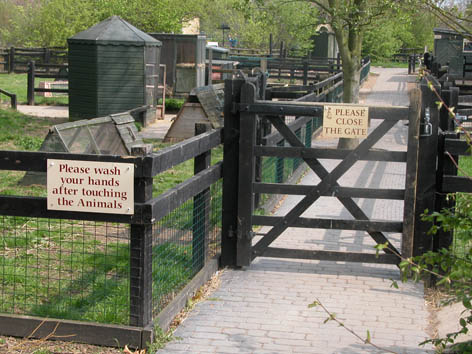 ---
More on.. the Pedestrian Bridge and steel-bar barriers round the back of Crystal Palace Station are soon to go! The fortress-like entrance to the park will be greatly improved. Although many of these changes may not be permanent but will fall into the overall master plan works in time. Click on the pictures to see what we will all miss!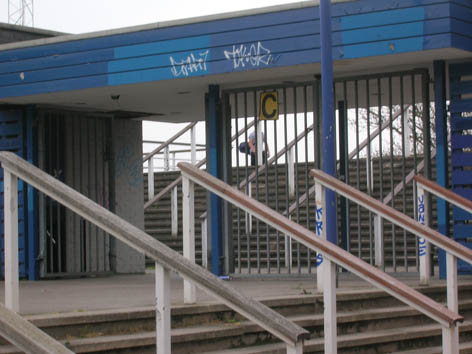 ---
Top of page; Return to Meetings/Reports Index;

2/5/07 Last updated 2/5/07