NIGEL WESTAWAY
& Associates

environmental facilitation and conflict resolution
CRYSTAL PALACE PARK
THE WAY FORWARD
(R97) Record of the Main
Group Meeting
Saturday 4 December 2004
The meeting was facilitated by Nigel Westaway & Associates. This report is a typed transcript of the flipchart record written (in open view of all the participants) during the meeting.
To make the record more intelligible, some explanatory notes have since been added by the facilitator. These are shown in bold italics. All other wording is as agreed by participants on the day, apart from minor grammatical corrections and clarifications.
Comments recorded are made by individuals and these views are not necessarily shared by other participants.
Any agreements reached by the whole group are boxed like this.
Because the record is inevitably cryptic in places, it is recommended that it should not be used to brief people who did not attend the meeting without a full explanation from a participants.
---
Front Page
Introductory Note
Attendance List
Apologies
Objectives
Agenda
Ground Rules
Role of Facilitator
Actions from July
Updates
Consultation Results
Comments on the Process
Learning
Discussion on Key Findings
LDA Way Forward
Dialogue Role and Structure
---
| | |
| --- | --- |
| Nigel Westaway | Independent Facilitator |
| Carey Haslam | Independent Facilitator |
| Schia Mitchell | Independent Facilitator |
| Rhuari Bennett | Independent Facilitator |
| Norman Edgell | SCASA/LFSR |
| Derek Newman | LDA |
| John Payne | CPCA |
| Jo Gibbons | J & L Gibbons |
| Martin Hussey | London Borough Bromley |
| Jane Moore | Norwood Society |
| Julian Meldrum | Saxon Crown (Lewisham) Swimming Club |
| Sue Nagle | Triangle Traders |
| Joyce Bellamy | Metropolitan Public Gardens Association |
| Bryn Balcombe | Motoring Clubs |
| Rosemarie Falaiye | CPCA |
| John Bellerby | CPCA |
| P Brooks | London Borough Bromley |
| Anne Crane | LDA |
| Pat Palmer | CPCDT |
| John Jarrett | CPCDT |
| Ray Sacks | Crystal Palace Campaign |
| Lee Hosking | ARUP Associates |
| Theresa Connolly | FOE |
| Peter Austin | Norwood Society |
| Karen Moran | Bromley Green Party |
| Stephanie & Jim Lodge | SFOE |
| Ken Lewington | |
| Sharon Baldwin | Town Centre Manager |
| John Greatrex | Crystal Palace Foundation & John Paxton Society |
| Alan Freeman | WBRA |
| Alan Munday | Streatham Society & Croydon Society |
| Ian Payne | London Borough Croydon |
| Ray Hall | People and Places |
| Barry Kidson | |
| Adrian Hill | Dulwich Society |
| Ken Thomas | User |
| Noel Winter | ASA |
| Suzanne Elkin | Boycott UCI Group |
| David Mackay | East Dulwich Society |
| Irene Baker-Hunt | Resident |
| Nick Goy | Resident |
| Kenyon | Norwood Society |
| Anthony Kendall | RUHCH Christian Ministries |
| Mee Ling Ng | College Ward and Resident |
| Virginia James | Bromley Forum of older people |
| Ellena Rushbrouk | Resident |
| John Canvin | Bromley Cllr CP Ward |
| Nigel Hawkins | Resident |
| Peter Martin | London Borough Bromley |
| Pat Trembath | Sydenham Society |
| Vivien Day | Crystal Palace Campaign |
| Rachel Ward | Boycott UCI Group |
| Martha Ward-Figueira | Resident |
| P J Goddard | Norwood Society |
| Abdel Ouhla | |
| Helene Richards | Friends of Crystal Palace Park |
| Peter Hore | Office of Tessa Jowell MP |
| Janice Hardy | Resident |
| Doreen Heath | Lambethans' Society |
| Katriona Ogilvy-Webb | Boycott UCI/LocaI Resident |
| Hillary Jarrett | CPC Sydenham Society |
Jim Woods, FOSR
Jim Williams
Jacqui Lait MP
Cllr Gareth Compton, Lambeth
Doris Gadsby
Darren Johnson, GLA
Peter lewis, SLTCC
Brian Howes
Karen West, Sport England
Malcolm Woods
John Carrie
To review the autumn consultation process
To drawn any constructive conclusions from the results
To agree the dialogue role and structure for the next stage
The foIlowing agenda was agreed by the meeting.
9.30 am

Introduction,objectives, agenda, ground rules
Actions from July 04
Updates
Consultation results

10.45 am

BREAK

Consultation results(cont'd)
Future process - LDA
Dalogue role and structure
Actions
Evaluation

12.45 pm

CLOSE
The group is working to the following ground rules, agreed at previous meetings:
Mobiles off
One person speaks at a time
Reconvene at agreed times
Behave respectfully towards each other
No audio-visual recording in meeting
Stick to agreed objectives and agenda
Participants to share responsibility for accuracy of the record
Joint press statement at end, if appropriate
Material may be circulated at meetings only if requested by the relevant group, and only via the facilitator
Other people to be invited only if requested by the relevant group, and only through facilitator
Focus on the issues and not on personalities
Working group/steering group members will work in accordance with the dialogue purpose
when running these meetings, NWA role is as independent facilitator; when running
consultation is acting as consultant to LDA
facilitator is paid by "problem holder" - conventional facilitation practice, but acts on
behalf of the whole stakeholder group, including the client
need to be clear about NWA rule in future
NWA should be judged on performance:

i. do we ensure balanced input in meetings?
ii. do we ever express an opinion re what happens in Park?
iii. wall record -is it accurate?

What if LDA dropped NWA? Breaks link between this group and LDA
NWA has been paid by a number of people over period of working on project (local
authorities, local amenity societies, other groups as welt as LOA)
Still to decide how process will proceed - then decide if NWA suitable
CP Museum people been invited and have declined
Any groups still not involved in process? Major groups covered. Exceptions in consultation process (youth, estate residents) to be covered in future consultation.
Some groups (e.g. re disabled access) may be involved as and when appropriate.
LDA met with Jacqui Lait MP - have sent her copy of consultation report
Sue Nagle has contacted Harris Technicai College
Disabilities covered by legislation which consultants must abide by (wider access issues also apply to families)
Amenity groups were sent info. as agreed
20th Century Society addressed working group
John Greatrex addressed working group
Crystal Palace Corner Project - permission granted 31/7/04-31/7/05. Plan to erect early June 2005. This meeting supports application for permission to have corner up for another year (July OS - July 06).
CP World of Sport Charitable Trust - sustaining the park. Project could generate 5-8 megawatts of electricity.
Olympics - CP could be potentially used as holding/training camp for teams - Bid Team would support this.
Prince Consultants - Conservation Report complete and with LDA. Will be made public early O5.
Public Inquiry Results ~ Inspector agreed hilltop should remain Metropolitan Open Land - same status as green belt. Agreed with LBB proposal for Major Developed Site status around Sports Centre, but subject to a number of caveats re height, ground cover.
Post-its sorted roughly before typing up, then typed out and sorted into sections with numbers of similar comments counted
Concern that people had to choose where to put comments (toilets vs £50m building).
Most of attendees at this meeting did not think this was a problem.
Concern that people did not know enough about budgets and implications to make choices - were not made aware of what the real cost of extensive improvements would be (cost and commercial development)
Did we take any professional advice on research? Thought it was confusing in terms of what we were looking for.
Consultation was not designed to produce quantitative results. Has produced a lot of qualitative results.
It was a fascinating exhibition.
Would it be regarded as valid by others?
Why were there no sub-headings? (e.g. what would you think of x on the top site?)

People did not appear to feel limited to making only one comment
Didn't want to constrain or direct people too much by asking too many specific questions
Last Sept, some organisations made proposals to the working group - why were these not in the consultation? Too specific at this stage - need to look at those next.

None of the work from the dialogue group should be forgotten.
Thought the post-its were brilliant - many people would not have made as many responses without being inspired by other people's or if it had been a more formal consultation.
Thought process was excellent.
Inadequate youth response - need to go and find them over next 6 months. Tried to organise one school session, but it fell through.
Residents from most council estates north of the park didn't come - need to get in touch with them.
Next consultation will take place in 2 locations - top and bottom of park.
Publicity was sub-contracted out and not done as well as should have been - will be better next time.
Go to CPP Youth Games and get kids to fill in questionnaire.
Post-its encouraged more comments. Display enabled people to make informed comments.
Now know issues - next step is to ask for comments on the full range of issues?
Next step: draw up a range of options and proposals that satisfy as many of the concerns raised as possible and consult on that. Would not be a vote but a "what do you think of these'"
Be careful about how you interpret the numbers of comments - some people didn't comment on things because they didn't know they existed and didn't see other post-its on the subject.
Variety of proposals for the sports centre was excellent.
Consultation was helped by the map that showed the size of CPP in relation to other parks.
Need to bring youth groups in now - even one lunch hour per school would be good.
Mid-week attendance mainly from regular park users.
Need to move on now and put the vision into reality over the next 5 years.
Consultation was the best thing we could have done.
Did people feel that the consultation implied that LDA only wanted a community sports centre? Others did not get this impression and LOA sees community underpinning the sports centre but wants to see it with a national/international focus.
Is it neglect that people are dissatisfied with, or some of the changes that have been made in the name of regeneration?

A mix of those plus a desire to have CPP with more of a sense of place.

In picking up, for example/ that a majority want major sports investment, is it going to be followed by statistical surveys?

Needs to be tested further at the next stage.

Would like to see the use of the park as an educational tool facilitated.
What balances and checks will the community have over LOA management of the park
on a day to day basis?

A trust seems to be a plausible way of managing the park.

With sports facilities - know that something will happen even if don't get 2012 bid.

Can it be conSidered as a training facility for the paraplegic team?

Most people broadly happy with consultation; those who aren't are concerned:

not statistically valid (not Intended to be)
don't know how this will be used/way forward
not representative in the form but if used as "straw poll" exercise - ok.
some people commented on some things and not others

Cannot force people to vote. All statistical exercises are flawed in some way.
Exercise has revealed certain trends - let's build on them.
Consultation attracted much wider range of ethnic groups than these meetings
People want something in the park to make them go there
Appendix II is more illuminating than summary
Security is major issue
More people want big than small but must be properly funded. It's a big park - think big. But increasing anxiety re side effects as scale of intervention increases.
More people want to rebuild CP than thought

didn't say where - assume they meant top site?
are they aware of impact this would have?

Appendix II (consultation data) is stunning - reveals huge amount of data - should form basis of thinking in this group.
Summary could be used as a checklist but must use data and summary in future work
People want good quality facilities but if done by tendering, generally accept lowest bid therefore not highest quality. This would not apply to Sports Centre.
Need attractive final destination, accessibility, affordability.
Need to secure agreement from LDNLBB re short term investment in Park. LOA in dialogue with LBB re this.
"Echo previous grandeur" is a good way to capture spirit but with caveats
People wanting new CP balance people who don't want it or who want other things.
Look at Appendix 3 - gives age and postcode as well.
Mix of consensus on some issues and diversity on others.
Website/access good way of engaging young people.
Consultation and Prince Conservation Plan and work from other consultants given to LOA
Urgent decision needed re sports centre building.
LOA will come to own decision in a few months.
Olympic decision will impact on what happens in park- may not meet, may framework deadline because of this.
LOA very much want to take dialogue forward - sounding board so can discuss issues
Sports will be quite for a couple of months.
Greenwich Leisure Limited have taken over sports centre management

other activities happening e.g. for Youth

Exhibition in January at Architectural Association.
General Election may have an impact
Discussions with South Kensington Museums in particular.
LOA will take over sports centre in Feb 06. Option is whether to take over park.
If LDA get funding cut because of Olympic bid, will this affect this process? Don't know.
Park is an asset. No money exchange in next 25 years.
Newsletter proposed and website - advertise in park.
Likelihood that sports will be ring-fenced; other income stays in park on model currently being considered
Will need to generate funds mean commercial development? Not what LOA is about.
Not a decision-making group and never has been,
Consultative group but with some doubt.
Need to get into generating detailed options now.
Agreed to continue on that basis.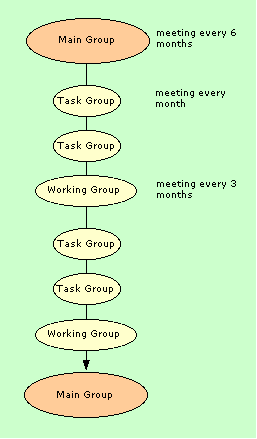 Generally people think this is acceptable. Those that don't:
will smaller task group be representative? Or effective?
Hard to agree unless you know who will stand down
Concern re chopping park into pieces with different working groups (that's why there have been several combined working group meetings)
Task Group function would be to work with the LOA in developing options or proposals in accordance with the consultation and criteria generated by the Dialogue Group and to present these to the Dialogue Group for discussion.
Group agrees main function of Task Group as set out above.
---
CONTENTS
Front Page
Introductory Note
Attendance List
Apologies
Objectives
Agenda
Ground Rules
Role of Facilitator
Actions from July
Updates
Consultation Results
Comments on the Process
Learning
Discussion on Key Findings
LDA Way Forward
Dialogue Role and Structure
---

Top of Page; Contents> ; Meetings Index

21/1/05 Last Updated 21/1/05