8:
Lawful direct action
At an early stage we identified UCI Cinemas as the likely tenant of the multiplex cinema.
Since then, we have targeted UCI to ensure that its customers understand the part it is playing in the desecration of our Park.
The Boycott UCI Group conducts weekly pickets of its cinemas in Central London.
In October 1999 we arranged a march from Crystal Palace to the UCI flagship the Empire Leicester Square to protest against its involvement in the scheme.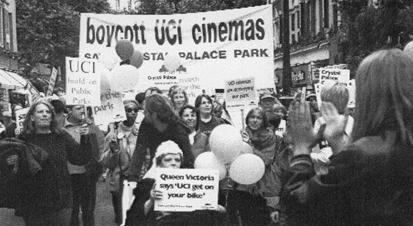 In February 2000 we arranged a national anti-UCI day on which we worked with environmental groups nationally to demonstrate outside 30 UCI cinemas from Clydebank to Poole.
We ensure that UCI features on our website (www.crystal.dircon.co.uk), which has had more than 23,000 "hits".
We also give it justifiably adverse publicity in our newsletters, which we regularly circulate by hand to 40,000 households in the area.
Of course, we also take the opportunity to mention its name in articles in national newspapers relating to the scheme.
See "Crystal Clear".
Naturally, UCI is deeply unhappy about the negative publicity generated by its participation in the scheme.
Any other operators joining the scheme will quickly find that they, like UCI, are viewed nationally as insensitive exploiters of a community park.
Further, if the building is ever built, there will inevitably be constant demonstrations outside it, due to the strength of local feeling and its location in the heart of our community. This, together with the torrent of negative press which has bedevilled this scheme, will have a deterrent effect on visitors.
See "An 'eco-yuppie' who is storming the gates from within"