Ken Livingstone's freshly appointed green envoy inspected the tree stumps at Gravel Hill this week.
Darren Johnson has been chosen by Mayor Ken Livingstone to handle environmental issues in London. He saw that only nine of the 45 beeches remained on Tuesday morning & Mr Johnson, the GLA and Green Party member, is now expected to carry a message to the mayor himself that save-the-trees campaigners will not be letting the matter rest.
They have already lodged an official complaint with the Local Government Ombudsman against Croydon Council 3 and have taken photos of all the stumps which they say support claims that many of the trees should have been saved.
Local resident Brian Coleman said he thought it was a good sign that Ken Livingstone's "minister for the environment" had taken time out from a hectic schedule to see the result of the felling. "We want it known that the council has acted unreasonably," he said.
Croydon Council decided to fell the trees on public safety grounds earlier this year after studying results of an independent report by arboriculturists.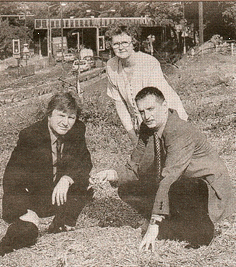 left to right: GLA representative Andrew Pelling, Save the Trees campaigner, Sheila Lovell, and Green Party GLA member, Darren Johnson.