The Royal Opera House
1st December 1999 - Grand Opening
The buzz of excitement of the participants and the delight of the new occupants of the refurbished Covent Garden, Royal Opera House, was captured in the live broadcast by the BBC.
Why is the Crystal Palace campaign interested in such an event? The answer is simple and obvious - The Floral Hall. It is a stunning glass and cast iron structure built by Edward Middleton Barry (1830-1880), third son of Sir Charles Barry, in 1857-8 and was clearly inspired by the Crystal Palace. It is the centre piece of a wonderfully executed restoration of the old opera house which combined the best features of the old structure with many innovations in the interior design and organisation of the new building. It was a joy to see (BBC TV 1/12/99) the delight and enthusiasm with which the tenants embraced the new features, services and facilities offered by this structure. The Royal Ballet and Opera have a great new home and we will be constantly reminded of the legacy left by Paxton and his influence - it is good to see a glimpse of what the Crystal Palace was like embodied in such an important building.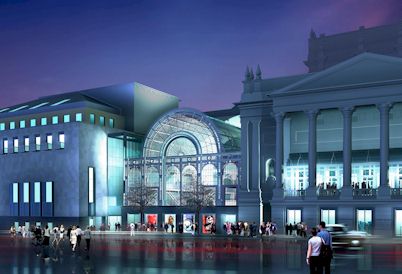 "The Floral Hall, which, in its dilapidated state had become a scenery store for sets in the current repertoire and which was painstakingly dismantled in the Summer of 1997, was the centre of attention at its "topping out" ceremony (February 1999). Members of the Press and Media, Sponsors, Local Community Groups, Contractors and staff of the Royal Opera House were there to see this beautiful Victorian cast iron structure, which has been lovingly restored, returned to Covent Garden in all its glory."
Good luck...
Contact: click here to get to the Royal Opera House website :

Top of page; return to links-places



2/12/99 Last updated 2/12/99;22/2/01 link fixed